Shopping Cart
Your Cart is Empty
Thank you for your business!
You should be receiving an order confirmation from Paypal shortly.
Exit Shopping Cart
Koryu Uchinadi Kenpo Jutsu Curriculum

Kihon Waza - Fundamental Technique
Entry level - Solo practices
Tsuki Waza - Techniques of punching

Keri Jutsu - Techniques of kicking

Kamae Waza - Defensive postures

Kaishu Waza - Techniques with the open hand

Heishu Waza - Combination strikes

Shiho Uke Waza 1to 4 - Four directional Techniques of receiving (blocking)

Ukemi Waza - Break falls

Ne Keri Waza - Ground kicking

Uchi Waza
Kihon Waza Futarigeiko
Entry level - 2 Person Drill
Tsuki Futarigeiko

Keri Futarigeiko

Kamae Futarigeiko

Kaishu Futarigeiko

Heishu Futarigeiko

Shiho Uke Futarigeiko

Tachi Keri Waza

Ukemi Waza Futarigeiko
Kihongata
Basic Defensive Fixed Patterns
Taisabaki Jodan

Taisabaki Gedan

Taisabaki Chudan Dai Ichi

Taisabaki Chudan Dai Ni

Taisabaki Kaishu Dai Ichi

Taisabaki Kaishu Dai Ni

Chokyu Gat
Taisabaki Oyo-Jutsu
Surface Applications
Taisabaki Jodan Oyo Jutsu

Taisabaki Gedan Oyo Jutsu

Taisabaki Chudan Dai Ichi Oyo Jutsu

Taisabaki Chudan Dai Ni Oyo Jutsu

Tasiabaki Kaishu Dai Ichi Oyo Jutsu

Tasiabaki Kaishu Dai Ni Oyo Jutsu

Chokyu Gata Futarigeiko Oyo Jutsu
Contextual based 2 Person Drills
Kansetsu Waza - Joint locks

Shime Waza - Chokes & Strangles

Ne Waza - Ground Grappling

Tegumi Waza - Standing Grappling flow Drills

Nage Waza - Throws & Takedowns

Uke Waza - Quadrant Drill

Gyaku Waza - Counters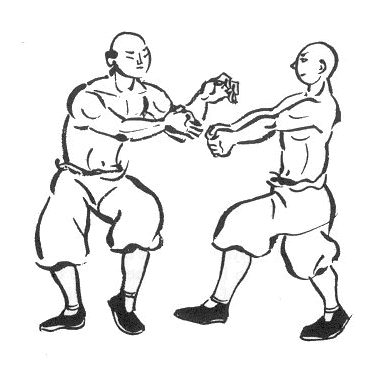 Hojo Undo
Supplementary training
Makiwara

Chi-ishi

Tak'e

Kick Shields

Focus Mitts

Free Sparring

Heavy & Ground Bag

Medicine Ball

Floor to Ceiling Ball

Strength & Cardio Training
Chokyu

Nepai

Nanshu

Rakanken

Seisan

Niseishi

Wando

Ryushan
Happoren

Unsu

Sochin

Passai

Naifanchin

Sanchin

Kusankun

Hakutsuru
There is no end to learning "the way" - there is no end to learning
Even at advanced levels, there are still higher levels to reach. There is no point at which one's skill or understanding is complete. Learning "the way" is done day by day, minute by minute, second by second, now, to eternity. There is no faster way.
/